Getting the most from your socials
Here is an outline as to how you could use your socials to promote your business and increase traffic to your website.
Twitter
"Twitter is a real-time information network powered by people all around the world that lets you share and discover what's happening now. Twitter asks 'what's happening' and makes the answer spread across the globe to millions, immediately."
Twitter allows you to get in contact with businesses and individuals that would be interested in your service.
By using the 140 characters that Twitter provides, your business can put the word out on latest offers, news and new products.
"Twitter is a free microblogging service and one of the leading online social media tools worldwide. Its users exchange 140 character messages, known as tweets. Social networks are formed as users follow and interact with each other and receive the tweets of the people they follow."
Integrate Twitter into your online marketing program
Your Twitter page is something you will want to integrate into your online marketing program. While you don't have to update it every day, you'll want to keep your profile fresh so visitors can see activity there and be motivated to subscribe to your tweets.
When someone follows your tweet feed, they become a follower. The more followers you have, the more likely it becomes that your messages will be circulated virally across the web.
Use Twitter to keep your audience updated in real time
Twitter is easy to work into your online marketing program and can be very beneficial.
You can tweet messages notifying your followers when you update your website or have a special promotion or news to publicise.
People who search Twitter can find your tweets and this will attract new followers, along with visitors to your website, if you place your web URL on your profile page.
You can keep your current web audience updated on changes to your website in a non-intrusive manner with a service they are already using.
Tweets are broadcast practically in real-time and this immediacy can be particularly helpful when you announce time-sensitive information.
Following Users
The act of following users involves carefully deciding which individuals could be interested in your business. An example for Harrisons Direct Wholesalers would be the chosen target of Caravan Parks.
The process would now involve searching for the Caravan Parks. Due to the number of business actively using Twitter this process is now much easier. Searching Caravan brings up a number of Twitter Pages including carav­an­par­knews.
Taking a look at the users actively following caravanparknews it is possible to seek out Caravan sites / Caravan Parks then start to follow these users. This in turn lets them know who we are and raises our brand awareness.
How to search for and follow a user
Visit www.twitter.com and use the search form to the right of the twitter logo, enter in your keyword/phrase and click 'Search'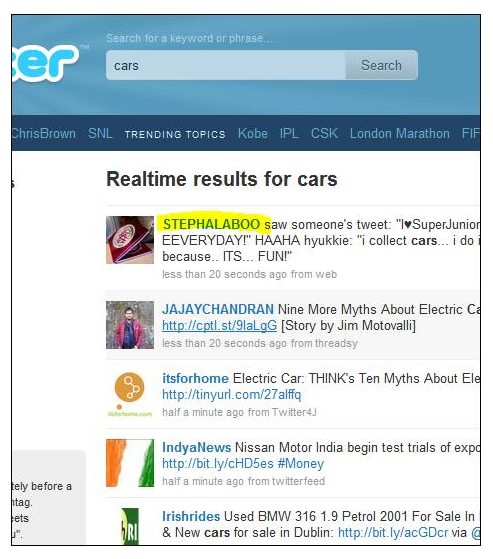 Click a username to view their twitter stream:

You may then follow this user by clicking the 'Follow' button highlighted above.
You may also add the user to one of your lists using the button underlined in red.
How to design your Twitter page
Log in to your account and click on the 'Settings' link at the top of the page.

You are now within your twitters account settings. From here click on the link named 'Design' in the menu. You can now personalise the background image and colour scheme of your twitter page.
Facebook
"Facebook's mission is to give people the power to share and make the world more open and connected. Millions of people use Facebook everyday to keep up with friends, upload an unlimited number of photos, share links and videos, and learn more about the people they meet."
How to create a business account
In order to create a 'business account' which is separate to your personal account you must log out of your personal account and click the highlighted text below:

From there you can create a local business page and when it asks you to use your current facebook account, say you don't have one. This way you can create a business account using a new email address. Using this account you can create a page and any ads for your business.
Other
Obtain a vanity URL to help people find your business: http://­www.­facebook.­com/­username/
Add your facebook URL to any marketing collateral and your website.
Use your wall to post business updates or to display any news you have added to your site. These updates should be linked back to your website to increase traffic.
Share things on your wall which would be of interest to your customers or followers.
Join network, industry and alumni groups related to your business.
Use search to find groups and fan pages related to your business by industry, location and career.


Youtube
"YouTube is the world's most popular online video community, allowing millions of people to discover, watch and share originally-created videos."
Upload compelling and informative video that your potential customers would find interesting.
Create playlists and add videos to your favourites which you think your customers would find useful or interesting.
Search for channels and subscribe to users who you find interesting, add them as a friend and communicate.
How to upload video to your channel
Once logged into your account click on the link named 'Upload' as highlighted below:

Once on the file upload page you may upload video to your channel by clicking the button 'Upload video' which is underlined in red above.
Select the video you wish to upload from your computer and the file will begin to upload.
How to design your YouTube channel
Log in to your account and click on your username at the top right of the screen. This will reveal a dropdown menu of account options.

Click on "My Channel" highlighted above.
Click on "Themes and Colours" underlined in blue.
From here you can modify the colour scheme and background image of your channel.