e-Commerce websites
Products catalogue
Any product can be added to one or more product categories, but listed for search engines as 1 product (rel canonical).
Each product can show one of more photos, as also video and list of files for download.­Advanced instock management with ability to manage few warehouses.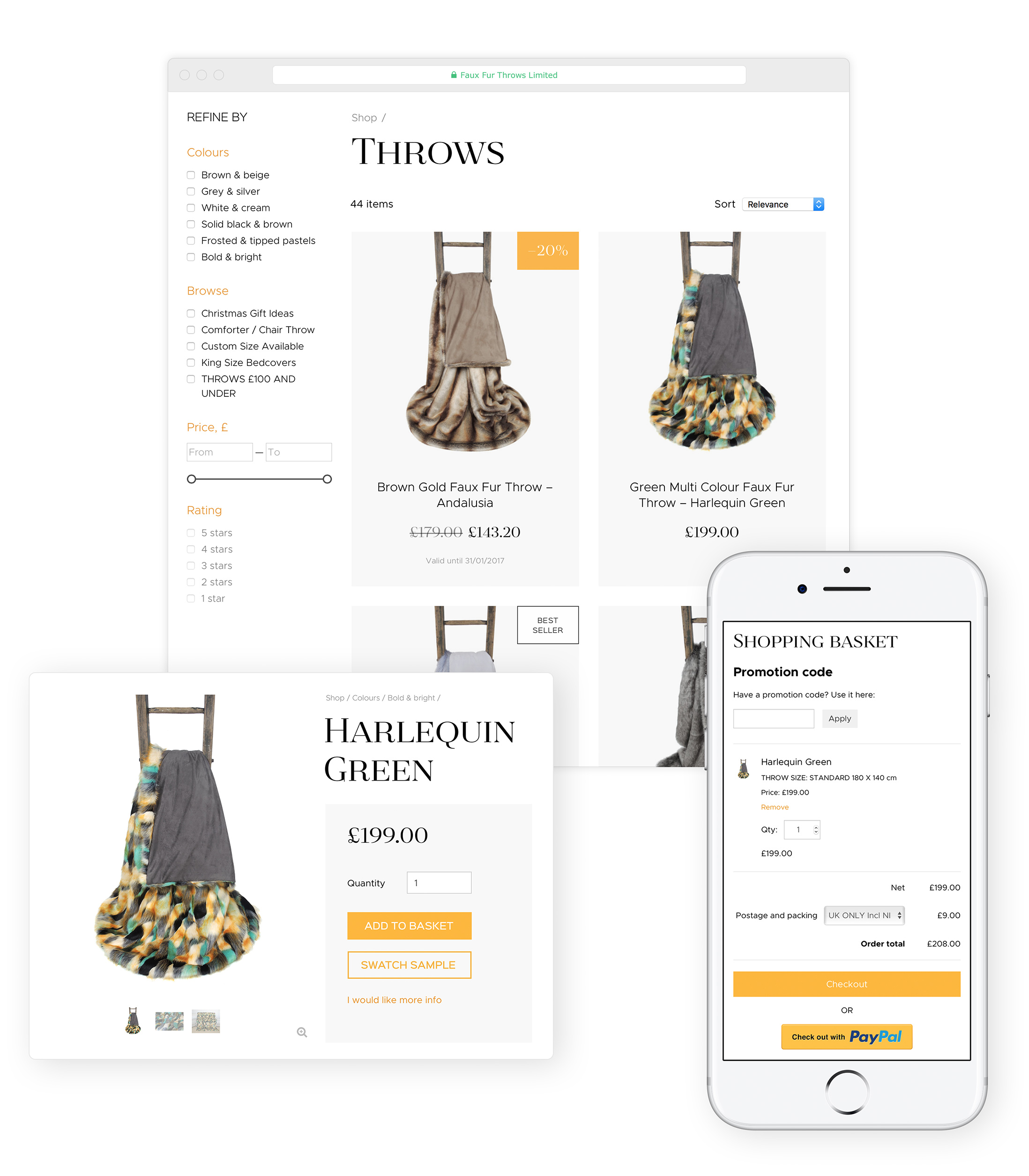 Custom pricing levels
All products can have 3 pricing levels by default (can be changed to up to 50 pricing levels) with custom titles (default ones are: 'Retail prices', 'Reseller', 'Wholesale').
Discounts
It's possible to provide any discount for any product or product category, by defining start and end time, relative or absolute discount value, and a lot of other parameters. So, it's easy to configure something like 'Buy 10 items and get 1 for free', or 'Buy 10 buttons and get 1 banner for free'. QR code discounts
Promotion/­coupon codes
It's possible to generate and use any promotion code for just 1 customer, or for group of customer, for some product category or product, with a lot of parameters like we have for discounts.
Back in stock notification
If some item is not available on stock at the moment then the visitor can subscribe to get notified then item will return back into the stock.
Customers
All website customers are recorded on website database for easy access of future website orders.
Website administrator can always review all client details, block any user, review last logon details, specify custom pricing level for the customer or even download users database for your own needs.
Personal pricing per user.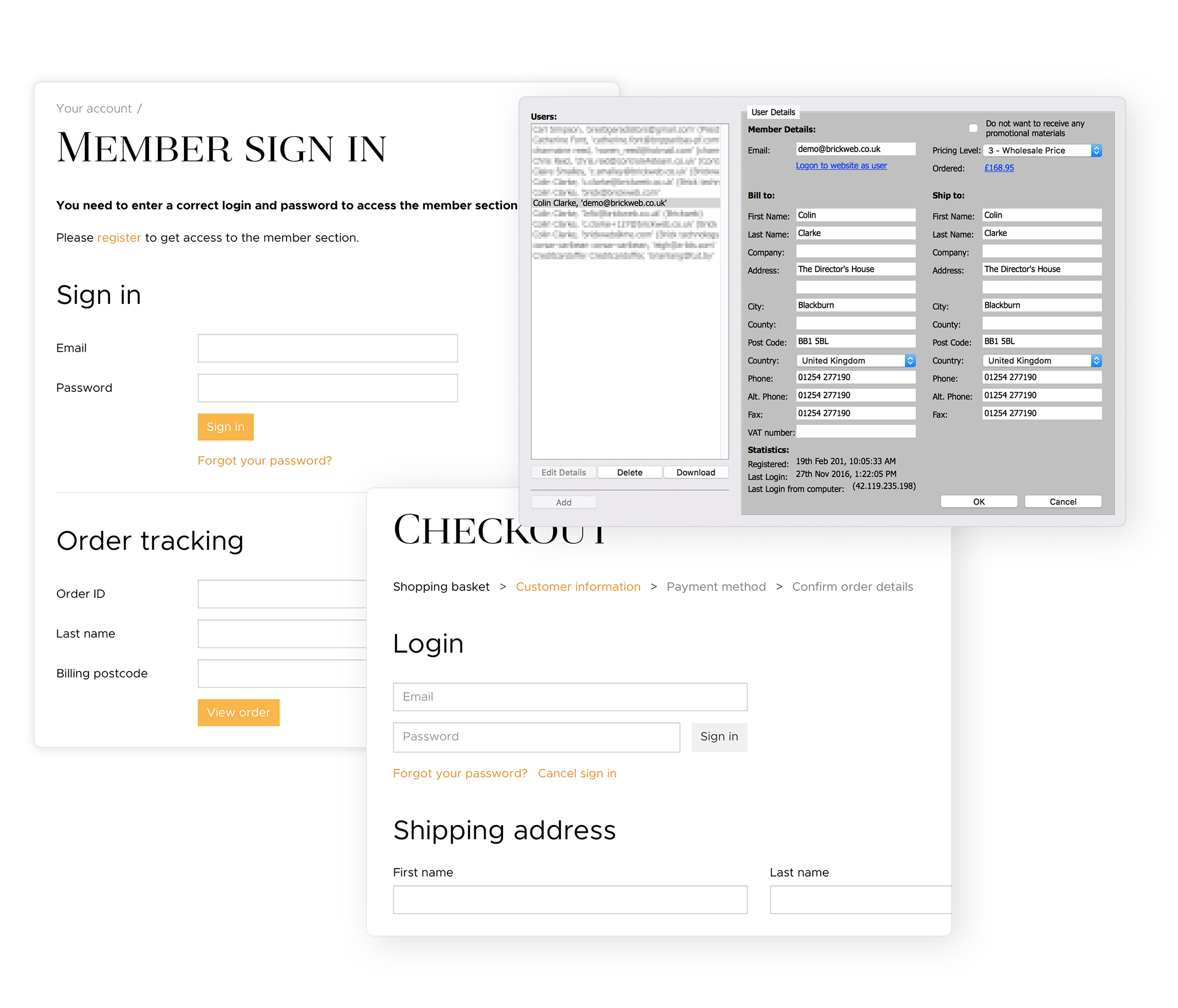 Affiliate codes
It's easy to issue a code to any affiliate and track amount of orders made using any of affiliate codes you have on your website.
Checkout
Complete redesigned checkout focused on making order as quick and easy as possible.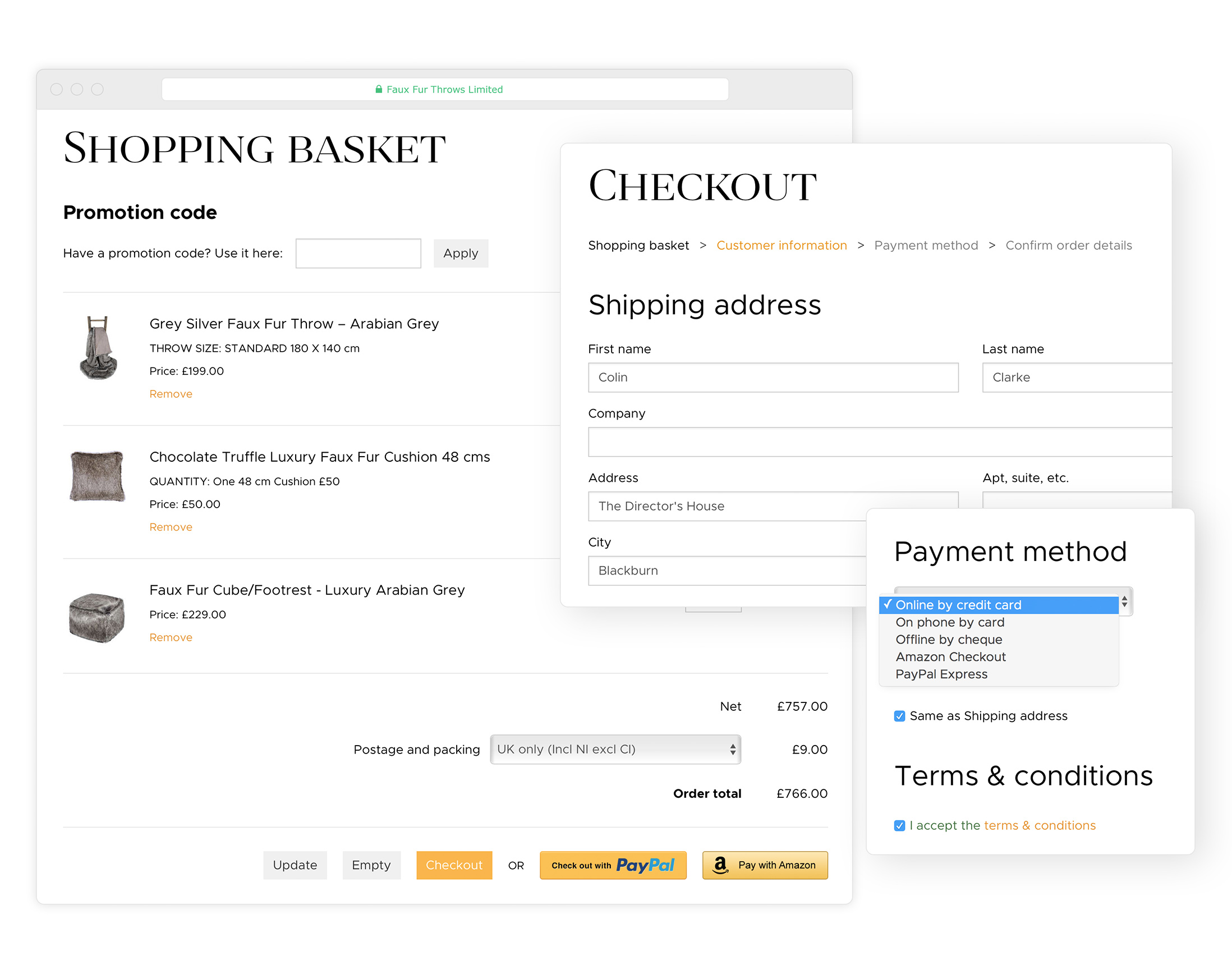 No need to register!
Sign-in using Facebook or Google+, or proceed as guest user even without specifying your email — phone will be enough.
Quick order right the product list
Get orders on phone and put into system
There is custom made telephone ordering mode starting with ability to sign-in on behalf of any customer (find it quickly) and also with the ability to create new users quickly, as also process orders on phone, pay the ones, mark as shipped, etc.
Multiple shipping addresses
It's easy to select a separate address to each item of the order, so items of the single order can be shipped to more than 1 address.
Shipping methods and costs
Any custom shipping method can be setup by order weight, order total value, shipping address, etc.
Can be calculated based on shipping address, order weight and/or order total value, or custom calculated for each order (TBC).
If costs can't be calculated automatically then website system will ask website admin to review the customer's order, to specify costs and send to customer for review/­payment.
Payment methods
Wide range of payment gateways supported:
PayPal, PayPay Pro (with custom designed payment pages) and PayPal Express Checkout;
WorldPay and WorldPay Direct;
SecureTrading
SagePay (aka PROTX)
GlobalIris from Realex­pla­yments (old HSBC)
AxcessMS
Barclays ePDQ
Google Checkout
MMS
NMI (www.nmi.com)
ServeBase.net
VoicePay (www.voice-pay.com)
Custom order statuses
Review order history by customer: re-order, pay for old order, cancel order. Integration with Sage for exporting orders into your inhouse system or importing orders from inhouse system for making possible for customers to track the order delivery. Mark orders with QR/bar codes/labels for quick processing by using bar code scanners.
Refund, Print address labels, Integrate with Royal Mail

E-commerce features
Step up to a better way of doing business online, whether e-commerce or other custom objectives!