Become a Google Trusted e-commerce site
Today Google announced it is starting a new ecommerce certification programme called "Trusted Stores" Once up and running, e-commerce stores that complete an approval process and are approved by Google will be allowed to display a "Google Trusted Store" badge. The badge is intended to give your visitors a boost of confidence and comes with a consumer purchase protection guarantee.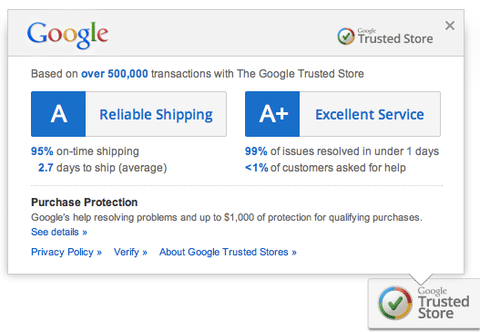 When a visitor hovers over the Google Trusted Store badge, a real-time report card will appear. Grades like A+, A, B, will be awarded for quality of service features, for example reliable shipping and customer service.
Right now it's in the very early stages (beta), but Brick can apply to participate in the pilot please contact Hayley Pearson hayley.pearson@brickweb.co.uk for more details. Google will not be able to accept every application and you will need an excellent history of great customer service and reliable shipping to be considered.
Find out more by watching Google's Trusted Store overview video: